Brilliant Surfaces – In Colour or Metallic effect
Colours act on the observer, generate ambience, appeal to the emotions, and often evoke memories. For the architect and planner, the choice of colours is a key step in the design process. Colours merge the building harmoniously into the surroundings or lend it a distinct presence. Colours underscore the architecture and place the detail or the whole surface in the foreground. And finally, colours also reflect attitude. Red is symbolic of activity, yellow of optimism. Grey, black, and white can be made to express a cool awareness of design. The AluPure system provides the maximum leeway for colours – matched perfectly to the design intended. Modern finishing techniques like powder or anodic coatings protect the surface not only against environmental effects, but provide developers with the colours and glosses for the product they want.
Powder finishing for the colour you want
Thanks to the high quality enamelling of the powder
finished profiles, the elements of aluminium retain their original brilliance even after many years and do not need a fresh coat of paint. You can choose from the whole RAL palette with over 200 colours. These RAL colours are available in glossy, matt, and textured.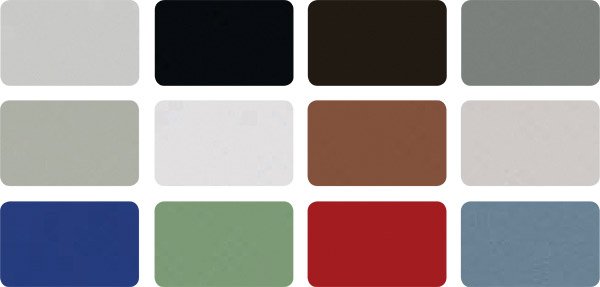 Anodic finishing for a brilliant look
The process yields brilliant surfaces and characteristic metallic effects. Anodic finishing is a benefit not only for the look. It also provides long lasting protection against increasingly aggressive environmental effects. Furthermore, anodised surfaces are insensitive to mechanical effects and
are easy to clean.